[media-credit name="lightstargod" link="https://pixabay.com/en/love-letter-letter-typewriter-girl-1285404/" align="alignnone" width="640″]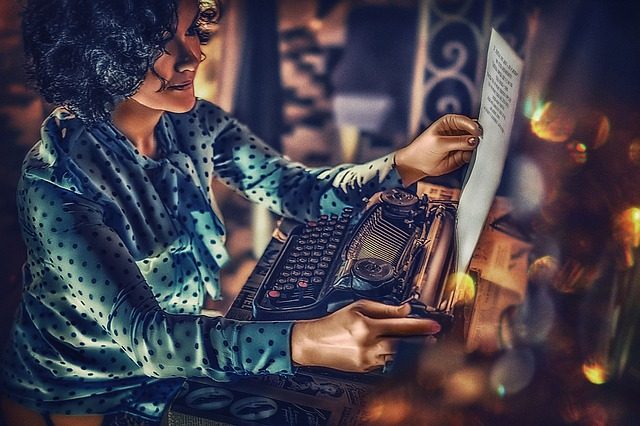 [/media-credit]
Suzie, can you come in here a second so I can dictate a letter to you? Thank you.
Address it to Robert Beecher, Vice President Neiman and Harrod's Office #612 in this building please, Suzie.
Begin letter dear Robert comma I'm writing you this letter to sincerely apologize for my questionable behavior, strike that Suzie, my appalling behavior at your dinner party last night period I am not in the habit of drinking in those quantities begin parenthesis also comma in my defense comma I was drinking on an empty stomach and am currently on medication for allergies begin bracket plus comma I've been in this weird headspace ever since my wife and I separated two months ago end bracket end parenthesis and I hope you see my poor actions, strike that Suzie, my despicable actions as an anomaly rather than something indicative of my personality period I especially want to apologize for the begin quotation hefty end quotation remark I leveled at both your wife and daughter simultaneously comma as well as the begin quotation urinating incident end quotation that occurred in your wife's prize rose garden period I hope none of those exquisitely beautiful flowers suffered from what I can assure you was nothing more than a practical joke gone very comma very awry period I also want to offer my sincerest apologies for shattering a majority of your lovely comma trim daughter's porcelain collection comma and for telling her to shut-up and quit crying period I know I should not have been in that area of the house comma especially in my condition comma and I should never have questioned the health of collecting porcelain objects at sixteen comma that's just not my place period my own daughter comma Maxine comma has quite a nice collection of antique dolls comma and I'd be more than willing to replace the broken porcelain with my daughter's antique dolls begin parenthesis she's already sided with her cooze of a mother in the separation comma so there's little for me to lose here end parenthesis period new paragraph I hope I've been able to bring some clarity to my abhorrent behavior comma and that you and your wonderful family are able to one day forgive me for these reprehensible actions period new paragraph now comma I understand if you can't forgive me for the spitting period I don't know where that even came from comma but I'll investigate the psychological roots period yours in sincerest apology comma Ralph Neiman Jr. p.s. sorry also for making an open pass at your wife comma I've just been really lonely ever since Maggie left period p.p.s. the begin quotation group thing end quotation suggestion was pretty weird comma wasn't it question mark please just disregard I ever said that period
Thanks, Suzie. Can you please deliver that? And can you also bring me two Excedrin and a glass of water?
---